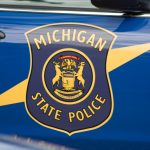 A serious injury crash took place on I-75 in Monroe County's Berlin Township.
The Michigan State Police Monroe Post reports that the crash occurred at approximately 5:30am on Wednesday near Swan Creek Road.
From evidence and witness statements, troopers determined that a Ford Edge…driven by a 28-year-old female from Lincoln Park… was driving northbound on I-75 with an unsecured juvenile in the rear seat.
The driver crashed her vehicle into the rear of a semi-truck, and they were transported to an area hospital with serious injuries.
The driver of the semi-truck suffered no injuries. At this time, it is unclear whether excessive speeds or intoxicating substances were factors in the crash.
Tune into our local and state newscasts, anytime day or night, for this story and more.
#wlenradio #wlennews #lenaweenews