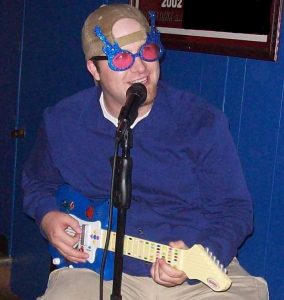 A Bunch of Stuff About Me:
I'm the guy with the versatile name. I am Joe Johns, Joseph Ray Johns, John Joes, JoeJohnJones, the man with two first names, the guy in the hat, or you may recognize the nickname that has followed me since my years at Springbrook Middle School… Jo-Jo!
I was born and raised right here in Adrian and I'm a Class of '99 graduate of Adrian High School. From there, I spent over ten years bouncing around the area's auto factories, fathered 2 awesome boys who have grown up way too fast, and have since married the love of my life- my wonderful wife, Brandi.
In 2010, I decided factory life wasn't for me and it was time to pursue a career I really enjoyed, so I put myself through broadcasting school at Specs Howard School of Media Arts. It wasn't easy to juggle school, work, and time with my kids, but I still excelled in all of my classes, took an amazing internship at a classic rock station in Detroit, and started as a part-time DJ here at WLEN shortly after my graduation from Specs.
Since then, I've gone from part-time DJ, to hosting the Sunday morning show, to WLEN Marketing Consultant, to my current (and most desired) position as WLEN's Production Director and host of the mid-day show- weekdays from 10am-3pm. I absolutely love my job and every single coworker. We may not all be related, but we're definitely a family! I spend the majority of my time trying to make everything aired on WLEN sound as good as possible.
Connect with me on facebook:  Jo-Jo on WLEN