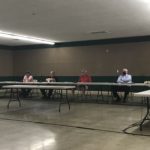 Adrian, MI – The Lenawee County Board of Health has announced that they will hold an in-person meeting next Wednesday at the Human Services Building in Adrian.
The gathering will be at 4pm in the River Raisin Room…and a zoom link will be available for virtual attendance.
In a statement issued on Thursday, the Board says that risk mitigation measures will be in place, such as limiting in-person attendance, mask wearing, and social distancing. They said that non-compliance with the mitigation measures may result in the adjournment of the meeting.
The Lenawee County Board of Health did not have an agenda posted online as of Thursday afternoon. They have not held a meeting since the middle of September last year.
Tune into our local and state newscasts, anytime day or night, for this story and more.
#wlenradio #wlennews #lenaweenews