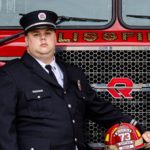 Blissfield, MI – U.S. and Michigan flags were lowered to half-staff throughout the weekend to honor the lives of firefighters who have died in the line of duty in 2020 and '21.
Joseph Todd Gallo, Blissfield Township Fire Captain, passed away in a car crash on November 17th, 2020.
Also in the listening area, Joseph Liedel, Captain of the Monroe Charter Township Fire Department, died on August 23rd, 2020.
Tune into our local and state newscasts, anytime day or night, for this story and more.
#wlenradio #wlennews #lenaweenews