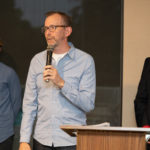 Adrian, MI – The late Helen Henricks was honored at the recent Athena Lenawee Awards Program.
She was honored with the Athena Leadership Award. Helen was a true community pillar, who was instrumental with Share the Warmth in Adrian. Janet McDowell and Pie Benio gave remarks about their friend at the event.
Members of Helen's family spoke as well… and her son, Benjamin Lorenz (pictured above), talked about his mother to WLEN News…
Tune into our local and state newscasts, anytime day or night, for this story and more.
#wlenradio #wlennews #lenaweenews