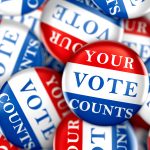 Lenawee County, MI – WLEN News continues our series on candidates in the upcoming August 4th Primary Election with a focus today on more Lenawee County Commissioners.
Dawn Bales is running unopposed on the Republican ticket for District 4, which includes: Dover Township, Fairfield Township, Madison Charter Township, and Seneca Township… excluding the City of Morenci.
District 5, which represents the City of Adrian voting precincts 1, 2, and 3… has Karol Bolton running unopposed for the Democratic seat.
Incumbent Republican Terry Collins is running against Democrat Juanita Kelley for District 6… which represents the City of Adrian voting precincts 4,5,6. Both are unopposed in their party races.
District 7, which represents Palmyra, Blissfield Village, Deerfield Village, Ogden Township, Riga Township, and Ridgeway Townships… has James Goetz and Ken Lake running for the Republican ticket.
Incumbent Republican Ralph Tillotson is running unopposed for the District 8 Republican seat, which includes the East side of Adrian Township…excluding the City of Adrian… and Raisin Township.
District 9, which includes the West side of Adrian Township… excluding the City of Adrian… Franklin, Clinton, and Macon Townships… will have incumbent Chris Wittenback running unopposed as a Republican.
These candidates are the individuals listed on the official ballot for the August 4th Primary Election. One of the purposes of the August Primary Election is to determine each party's nomination for the November General Election ballot.
Tune into our local and state newscasts, anytime day or night, for this story and more.
#wlenradio #wlennews #lenaweenews