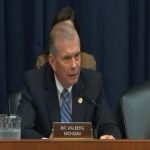 Lenawee County, MI – With Congressman Tim Walberg's support, the U.S. House of Representatives unanimously passed H.R. 7575, the Water Resources Development Act of 2020, a bipartisan bill that provides improvements for Michigan's ports, locks, ecosystem restoration, and other waterway infrastructure projects. H.R. 7575 also includes provisions to combat harmful algal blooms, support the Harbor Maintenance Trust Fund, and authorize construction of the Brandon Road Lock and Dam to prevent the spread of Asian Carp into the Great Lakes.
"Maintaining and improving our water infrastructure is critical for Michigan's jobs and ability to generate economic growth. In particular, it will help facilitate commerce at the Port of Monroe and ports throughout our state," said Walberg. "Passage of this bipartisan legislation is also a big win for the long-term health of the Great Lakes. By combating threats like algal blooms and Asian Carp, we are taking significant steps to preserve this treasured resource for future generations to enjoy."
Tune into our local and state newscasts, anytime day or night, for this story and more.
#wlenradio #wlennews #lenaweenews
*Information from the office of Congressman Tim Walberg*