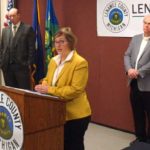 Press Conference Overview
Lenawee County officials held a press conference Tuesday afternoon at the Lenawee County Health and Human Services Building to give an update on COVID-19 and recent action taken by the Board of Commissioners.
County Administrator Marty Marshall, Emergency Management Coordinator Craig Tanis, Sheriff Troy Bevier, Chairman David Stimpson, Health Department Officer Martha Hall, and the President of the County Fire Chiefs Association Ryan Rank were all in attendance to provide the update and take questions.
COVID-19 Testing and Results
Hall reported that 35 individuals from Lenawee have been tested for COVID-19, and 18 have come back negative. The other 17 had results pending at the time of the press conference.
When asked about the availability of test kits, Hall said testing that is done through the Michigan Department of Health and Human Services is administered based on guidelines set by the state. She also said that commercial testing facilities are being asked by MDHHS to follow their guidelines for testing.
According to the criteria in place right now, Lenawee County residents that fit the MDHHS criteria are able to get tested…so test kit availability is not an issue right now.
Here is the recent action taken by the Lenawee County Board Commissioners:
"On March 23, 2020, I declare that a "state of emergency" exists in the County of Lenawee, due to the COVID-1 9 Pandemic, the State of Emergency Declared by the Governor of the State of Michigan and a National State of Emergency declared by the President of the United States. As a result, the following conditions exist:
1) Widespread and severe stress on the local public healthcare system, county public health  system, and county first responder system due to a lack of resources;
2) The response and recovery elements of the County of Lenawee Emergency Operations Plan have been activated; and
3) Local resources are being utilized to the fullest possible extent, however, despite these efforts, local resources are not sufficient to cope with the situation.
Therefore, as Chairman of the Board of Commissioners of Lenawee County, in accordance with Section 10 of 1976 PA 390, as amended, I hereby declare that a "state of emergency" exists within our jurisdiction as of March 23, 2020, and that local resources are being utilized to the fullest possible extent. The county Emergency Operations Center has been virtually activated and our emergency operations plan has been activated until such time as the Board acts to cease the state of emergency."
Video of the Press Conference
Below is the link to the full press conference from our WLEN Facebook page:
https://www.facebook.com/wlen1039/videos/1329333857252395/
How Can I Help/Donate?
The County issued a "Medical Supplies Needs List"-
"Personal Protection Equipment (PPE), that first responders and law enforcement need to protect themselves when caring for and interacting with the public, is in short supply and hard to restock. Requests have been made to schools, dentist offices and other businesses to donate supplies but there is not enough to go around. The list of items below are desperately needed:
N-95 Masks
Surgical Masks
Non-latex Disposable Gloves
Medical Gowns
Safety Glasses
Hand Sanitizer
Disinfectant (liquid & spray)
Liquid Bleach
Moisturizer/Hand Lotion
Any person or business that has equipment to offer can contact Karen the donation line, being hosted by Community Mental Health, on behalf of the Emergency Operations Center, at 517-264-0105 between 8:30am and 5:00 pm. If you call and there is no answer, please leave a message and your call will be returned."
An Update from ProMedica
"ProMedica Health Systems will continue to take steps to keep the residents of Lenawee County  updated on their local hospital.
The State of Michigan has launched a new hotline to answer health related questions seven days a week from 8 am to 5 pm by calling 1-888-535-6136 or by e-mailing COVID19@michigan.gov24/7. Staff cannot provide individual clinical advice through the hotline.
Following the CDC guidelines, all non-essential testing and non-essential ambulatory services  will  be limited to minimize the risk for our patients, staff, and the community. Ambulatory  surgery will be limited to:
Emergencies-threat to patient life
Threat of permanent dysfunction
Risk of metastasis
Rapidly worsening symptoms
Visitors in Hospitals/Healthcare Facilities
Gov. Gretchen Whitmer issued an Executive Order that restricts visitors in healthcare facilities, including hospitals. Effective immediately, all healthcare facilities and residential care facilities  must prohibit any visitors, with the following exceptions:
Visitors necessary for the provision of medical care for a patient.
Visitors who support of activities of daily living for a patient.
Visitors who must exercise of power of attorney or court-appointed guardianship for a patient.
Parents, foster parents or guardians of patients who are 21 years of age or under.
Visitors to a patient who is in serious or critical condition or in hospice care.
Those who are visiting under exigent circumstances.
Visitors performing official governmental functions"
Tune into our local and state newscasts, anytime day or night, for this story and more.