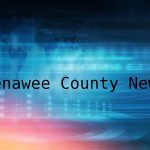 ADRIAN, MI – Lenawee County officials will be conducting a press conference this afternoon about COVID-19.
The purpose of the press conference will be to update the public on how the pandemic is impacting Lenawee County and explain the role of the County Declaration of Local State of Emergency.
As of this morning, there have been no confirmed cases of COVID-19 in Lenawee.
This press conference will be limited to the press only… so WLEN will be streaming it on our Facebook page, and on 103.9 WLEN.
Tune in at 1pm this afternoon or go to our Facebook page for the Lenawee County COVID-19 press conference.
Tune into our local and state newscasts, anytime day or night, for this story and more.