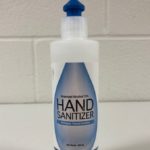 Lansing, MI – The Michigan Department of Agriculture and Rural Development reported that Purella brand hand sanitizers stated that they contain 75 percent isopropyl alcohol…but testing showed they only contain about 50 percent.
As a result, the department issued a Stop-Use and Stop-Removal Order after finding the products do not protect the public and do not comply with the standards in the Michigan Weights and Measures Act, 1964 Public Act 283.
The Orders prohibit the sale, offering for sale, or use of hand sanitizers sold as Purella brand hand sanitizer stating, '75 percent Isopropyl Alcohol'. These products should no longer be used, immediately be removed from store shelves or other product displays, and no longer be offered for sale.
The Stop-Use and Stop-Removal Orders means Purella brand hand sanitizers cannot be sold or used in the State of Michigan. The products may be returned to the place of purchase or properly disposed of in accordance with local ordinances.
Tune into our local and state newscasts, anytime day or night, for this story and more.
#wlenradio #wlennews #lenaweenews