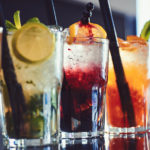 Lansing, MI – The Michigan Department of Health and Human Services Director Elizabeth Hertel and the Michigan Liquor Control Commission Chair Pat Gagliardi urge moderation in drinking as they recognize April as Alcohol Awareness Month.
The two entities report that:
The average Michigander consumed nearly 956 alcoholic drinks in 2020, an average of 18 drinks per week. This exceeds 'heavy drinking' as defined by the CDC.
Michigan ranked in the Top 10 among states that drank the most throughout 2020, beating the national average.
Alcohol awareness starts with these reminders:
Know that alcohol products are increasingly more potent, such as hard liquors, including tequila and gin.
Know what a standard 'drink' is: 12 ounces of beer; 5 ounces of wine; or 1.5 ounces of distilled spirits or liquor.
And if you choose to drink alcohol, do so in moderation.
Tune into our local and state newscasts, anytime day or night, for this story and more.
#wlenradio #wlennews #lenaweenews