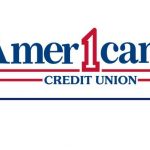 Jackson, MI – The American 1 Credit Union Executive Team and Board of Directors has strategically shifted their attention to improving members' digital experience, evident by the changes members have seen in 2020.
"The ability to perform everyday banking needs in a contactless and digital way has become increasingly necessary over the past few years – even prior to the pandemic," said Chairman of the American 1 Board Phil Hoffman. "Upgrading our banking technology platforms not only provides additional convenience for our membership, but necessary security enhancements as well."
Over the past year, American 1 focused on many digital upgrades to positively impact the member experience as it pertains to security, efficiency, and functionality.
"Being boldly convenient is a priority for us. Over the past few years we focused on brick and mortar, but in 2020 we turned our focus to digital strategies. Especially since the onset of a pandemic, there is an even greater need for improved digital experiences, and we are thankful that all of these upgrades were already in process as part of our multi-year plan," said Kristi Edgar, Chief Operations Officer and Executive Vice President for American 1.
In 2020, American 1 launched the following technology upgrades.
· Launched in early 2020, Ask American 1 is an interactive FAQ platform with over 250 questions reviewed and updated regularly.
· In response to social distancing and a need for remote banking options, the American 1 team launched mobile check deposit in March, which was earlier than planned, to better serve their members.
· In August, American 1 released a new credit card Rewards program and website with better redemption options and a more user-friendly website.
· Introduced in September 2020, the new American 1 website is that was more dynamic and easier to navigate.
· This month, a new Online Banking platform and mobile app was released. The upgrade includes improved security measures, personalized member dashboard, a seamless experience between the desktop and mobile versions, and more.
· The launch of the new Online Banking platform also includes an upgrade to e-statements, which are now interactive and fully ADA compliant.
"The new Online Banking upgrade is an experience we've been excited to release to members, and our team worked diligently to get the platform ready," said Nicole Patrick, VP of Payments for American 1. "I'm proud of the work we've done to protect our membership by making improved security measures one of our top priorities with many of our platforms, but most notably, our new Online Banking."
Established in 1950, American 1 Credit Union today serves over 59,000 members with 16 branch locations across Jackson, Washtenaw, Hillsdale, Calhoun, Lenawee, and Wayne counties. American 1 is proud to serve the members of their communities by creating financial wellness through personal everyday banking.
Tune into our local and state newscasts, anytime day or night, for this story and more.
#wlenradio #wlennews #lenaweenews
*Information courtesy of American 1 Credit Union*