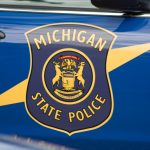 Madison Twp., Lenawee County – The Michigan State Police Monroe Post is attempting to identify two subjects of an attempted break into a resident in Madison Township Thursday morning. The incident was captured on video by a home surveillance system at approximately 8:54a.m. in the 3000 block of West Beecher Road.
In the video, the subjects were observed checking the house for potential points of entry. The subjects entered the screened in porch area of the residence and attempted to gain entry through the interior door but were unsuccessful.
The subjects captured on the video were identified to be a white male and a white female. The male is described as having dark hair and sideburns. He was wearing a grey sweatshirt with a tan hat and sunglasses. The female is described as wearing a camouflage jacket with a pink hooded sweatshirt underneath and to have dark hair.
The subjects arrived and departed the scene driving a white 2 door Ford F-150 pickup truck with a toolbox in the cab. Anyone having further information is asked to contact the Michigan State Police Monroe Post.
Tune into our local and state newscasts, anytime day or night, for this story and more.
#wlenradio #wlennews #lenaweenews
*Video courtesy of the MSP Monroe Post*