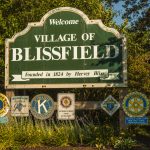 Blissfield, MI – This past weekend marked the 75th year since a train-truck in the Blissfield area crash killed 16 German prisoners of war and one guard.
In 1945, 16 POW's and one guard were killed in a train-truck crash at the Silberhorn crossing. Pascual Martinez, driver of the truck transporting the prisoners back to the camp after an 8-hour day's work on the Raymond Beck farm four miles south of Riga, was injured as were 8 other POW's. An Army board of inquiry investigated, exonerating Martinez.
The deceased German soldiers were buried at Fort Custer National Cemetery. At the date of the accident the war was over and they were waiting for an agreement on how to exchange/return prisoners.
Over the weekend, there was a wreath placed near the accident site to commemorate the POW's and the guard who lost their lives.
Tune into our local and state newscasts, anytime day or night, for this story and more.
#wlenradio #wlennews #lenaweenews
*Media in the article is courtesy of the Blissfield Historical Society*