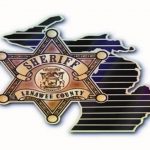 Clayton, MI – There was a pair of crashes at the corner of M-34 and M-156 in southwestern Lenawee County on Tuesday night.
Sheriff Troy Bevier told WLEN News that an injury crash took place just before 5pm. They were transported to Hickman Hospital to be treated for non life-threatening injuries.
Shortly after the first crash, a second one took place at the same intersection. Sheriff Bevier said that no injuries were reported.
Tune into our local and state newscasts, anytime day or night, for this story and more.
#wlenradio #wlennews #lenaweenews