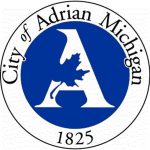 Adrian, MI – Kelly Castleberry has been appointed to fill the vacant seat on the Adrian City Commission.
She received a unanimous vote Wednesday night to serve in the spot left abruptly by Commissioner John Dudas nearly one year to the day.
A charter amendment passed by Adrian residents in the primary election gave the group the ability to appoint a person to a vacancy on the Commission.
Kelly Castleberry… who is a military veteran, works with children on a daily basis and has a child in the military… was one of several candidates who interviewed for the position at a Special Meeting on Wednesday night.
She talked to WLEN News after the vote to talk about why she ran…
Castleberry outlined how she plans to get Adrian's children involved in local politics…
Adrian City Administrator Greg Elliott told WLEN News that it will be nice to have a seventh opinion on the Commission…
Castleberry's term is set to expire in the Fall of 2021.
The next Adrian City Commission meeting will be with all seven Commissioners next Monday, October 19th.
Tune into our local and state newscasts, anytime day or night, for this story and more.
#wlenradio #wlennews #lenaweenews