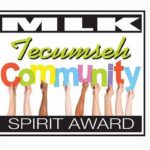 Tecumseh, MI – The City of Tecumseh has launched the inaugural Martin Luther King Jr. Community Spirit Award. Each year they will recognize a community member, youth/young adult and/or a business that is making an impact in Tecumseh by helping create MLK's vision of a 'Beloved Community' – making the city a place where all people are loved, accepted and protected.
In a news release to WLEN News, the City of Tecumseh outlined the award. All of the award information issued by the City is below:
What is the MLK Community Spirit Award?
As we continue to grow our city, one thing that always stands out is the true sense of community that many people feel here in Tecumseh; a sense of belonging and support that is so important it is often a bond that keeps families here for generations. As part of our ongoing commitment to being a loving, diverse city we must strive to create an environment where all people belong, are loved, protected, and included. The goal of the Martin Luther King Jr. Community Spirit Award is to honor those that have made a significant contribution to create a true community of belonging for all here in Tecumseh; someone that embodies Dr. King's vision for a 'Beloved Community.'
A 'Beloved Community' is a place where all people, from all walks of life, can live in peace and harmony together. It is a society built around love, justice, brother/sisterhood, equal opportunities and overall inclusion and acceptance of all people. A nominee for this award should be someone who has worked toward creating a community for all in Tecumseh such as this. This could be through creating a new program, volunteering, educating, breaking down racial and cultural divides, etc.
Who is Eligible?
Any person, student***, business, organization, church or nonprofit that has made an impact toward creating a 'Beloved Community' here in Tecumseh is eligible to receive the award. The nominee does not have to reside in Tecumseh, but their impact on Tecumseh must be illustrated in the nomination form.
***The Youth/Young Adult award will come with a $1,000 scholarship, to be administered through Community Learning Connections of Tecumseh.
A special thank you to Living In Lenawee Realty, Suburban Chevrolet and Dionardo & Denise Pizana for generously sponsoring the 2021 scholarship.
How to Nominate Someone:
Please utilize the nomination form and feel free to include additional letters of recommendation or any other articles/materials to support your nomination. Return all materials by November 30th, 2020. The MLK Community Spirit Committee will meet in December and announce the awardees in early January with an official award to be presented at the January 19th, 2021 Tecumseh City Council meeting.
Please return materials to jsattler@tecumseh.mi.us
Questions? Call Jessica Sattler at 517.424.6003 or email at jsattler@tecumseh.mi.us
Tune into our local and state newscasts, anytime day or night, for this story and more.
#wlenradio #wlennews #lenaweenews