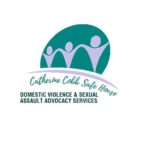 Adrian, MI – October is Domestic Violence Awareness Month, and you can help the Catherine Cobb Safe House "Paint Lenawee Purple" and support local survivors of domestic violence.
When victims are able to safely escape from their abuser, they often survive with long-lasting and sometimes permanent effects to their mental and physical health; relationships with friends and family; and their economic well-being.
Survivors and their children receive comprehensive, trauma-informed support and advocacy services during their stay at the Catherine Cobb Safe House.
You can help them "Paint Lenawee Purple" by:
Purchasing a Paint Lenawee Purple t-shirt and send a picture of yourself, friends, co-workers, club members or family wearing the shirts and send them a picture via Facebook messenger or email so they can post your support on Facebook.
Wearing a purple lapel ribbon. Pick up a ribbon at the Catherine Cobb Safe House Administration Office or at partnering businesses in the county.
Participating in the Domestic Violence Yard Sign Campaign. To get yours, call 517-265-5352 for more information.
Displaying purple ribbons in your community. Decorate your home or business with purple displays. Catherine Cobb thanks the cities of Morenci, Hudson, Onsted, Adrian, Blissfield and Clinton for letting them put ribbons downtown.
For more information, go to www.fccsoflenawee.org, or by dropping off or mailing your gift to Catherine Cobb Safe House at 220 North Main Street in Adrian.
Tune into our local and state newscasts, anytime day or night, for this story and more.
#wlenradio #wlennews #lenaweenews