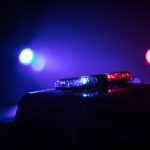 The Region of Irish Hills Narcotics Office seized cocaine/crack and heroin in the 600 block of East Maumee Street in Adrian on Wednesday, August 12th. After receiving information provided by the Adrian Police Department, RHINO executed a search warrant.
Officers seized 27 grams of cocaine/crack, 5 grams of heroin and 40 caliber handgun with the serial number obliterated. RHINO also executed an arrest warrant in the 800 bock of East Butler Street. A stolen pistol was recovered and one suspect was arrested on a felony warrant and a female was advised of a warrant and released.
RHINO was assisted by the Michigan State Police Monroe Post/Adrian Detachment, MSP K-14, the Lenawee County Sheriff's Office, the Adrian Police Department and the Madison Township Fire Department tactical medics.