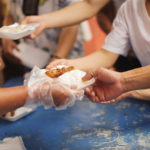 WLEN News will be reporting a series of COVID-19 stories as it relates to the businesses, non-profits and people in Lenawee County. This is the first in a series of reports on COVID-19, and its effect on homelessness and food insecurity. The Daily Bread of Lenawee reports that they have seen a significant increase in need to serve meals, while meeting the challenges of social distancing.
The COVID-19 Pandemic has drastically changed The Daily Bread of Lenawee's environment. Attempting to fill the mission of providing nutritious meals and fellowship in a compassionate and safe setting. They normally serve meals indoors and patrons visit with each other and banter with volunteers. They are now serving hot meals in carry-out boxes out the front door as it would be impossible to maintain the 6-foot social distancing requirements in the dining hall. This is critical as the patrons are a part of some of the most vulnerable of populations.
Due to the COVID-19 pandemic, they are serving more people (between 100 and 300 meals each day) and have seen many new faces over the past month. More people and families in need as the struggle with unemployment and rising food costs not covered by underemployment is a reality.
As they prepare for the future, they are economizing with creative food options and attempts at saving energy. Through some community grants they have been able to update kitchen appliances that were quite old. For more information on how you can help visit www.dailybreadlenawee.org.
Stay tuned for more in WLEN's COVID Lenawee series on 103.9 and wlen.com.