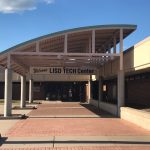 Lenawee County, MI – The Lenawee Intermediate School District Board of Education adopted a plan for returning to school for the 2020-2021 school year.
This plan includes face-to-face instruction as allowed when the school year begins on August 31st, along with significant precautions intended to prevent the spread of COVID-19.
Currently, Lenawee County remains in Phase 4 of the MI Safe Start Plan. In this phase, the LISD's plan includes the following components:
• Face-to-face instruction for all LISD programs, with an ability to support mandated services remotely as needed;
• Facial mask requirements for all persons over the age of two years who are medically able while on the school bus, in any other LISD vehicle, and while present in the common areas of the building, and additional mask requirements for students in grades 6-12 while in a classroom
• Social distancing to the maximum extent feasible
• Regular opportunities for hand washing/sanitizing will be built into schedules
• Regular cleaning practices
• Daily screening protocols for all LISD staff, contracted service providers, and visitors, as well as at-home screening protocols for students and families to follow
The full Preparedness and Response Plan, as well as frequently asked questions and additional information can be found on the LISD website.
Tune into our local and state newscasts, anytime day or night, for this story and more.
#wlenradio #wlennews #lenaweenews