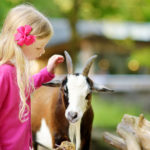 Written by Carollyn Davis, Morenci High School Student
Are you looking for an adventure the whole family can attend? Lucky for you there is a little glimmer of peace found within a farm known as "The Oasis".
They are located on Hogan Hwy near Clinton, Michigan.
Before quarantine the family owned farm would travel to different fairs and events to give children and adults the chance to interact with their animals. They wanted to find a way to still offer this interaction to as many people as possible after COVID-19 made it impossible to travel to the events. This led to the perfect idea, a small petting zoo.
The admission fee is free for all ages, although they do accept donations.
You have the option to buy a bucket of grain and treats for five dollars to hand feed their many goats, cows, and sheep. They also have a wide variety of animals that include Emus and their chicks, camels, miniature cows, and horses.
The only rules they ask you to respect are to not climb on the gates, not to harass the animals, and to not kidnap any animals. It is perfect for anyone of any age as long as they have a passion for cute creatures and don't mind getting a little dirt on their hands!