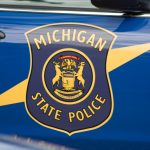 Franklin Township, Lenawee County – An Ohio man died in a motorcycle crash in Lenawee County over the weekend.
The Michigan State Police Monroe Post reports that troopers responded to the crash just after 4pm on Sunday afternoon on Pentecost Highway near Reed Road.
The MSP was able to determine… based on evidence at the scene and a witness statement… that a 2004 Yamaha motorcycle was traveling southbound on Pentecost Hwy and passed the witness vehicle in a no passing zone.
There was an oncoming vehicle travelling northbound and the driver of the motorcycle swerved aggressively back into the southbound lane and went onto the shoulder area. The witness advised that it appeared while the motorcyclist was slowing down, he lost control and struck a road sign.
The driver, 36-year-old Chad Reynolds from Fayette, Ohio, was pronounced dead at the scene.
Tune into our local and state newscasts, anytime day or night, for this story and more.
#wlenradio #wlennews #lenaweenews