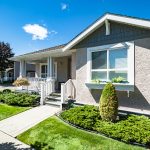 Adrian- Many Michiganders saw this coming after Ohio Governor Mike Dewine issued the "stay home, stay safe" executive order… and sure enough, Michigan Governor Gretchen Whitmer issued essentially the same order today….all in response to the COVID-19 Pandemic.
In her press conference earlier today, Whitmer placed some blame on the Federal Government…
She says Michigan has done their part…
Governor Whitmer went on to reassure Michiganders that grocery stores and other essential services will remain open…
So what will lift the 'stay home, stay safe' order?…
The Governor has a message for Michigan's youth…
You can watch the full video of the Governor Whitmer's press conference from this morning on  the Michigan State Police Facebook page.
The orders will take effect after midnight tonight. It prohibits employers from requiring workers to leave their homes unless necessary to protect life or conduct minimum basic operations. The order also bars all gatherings of any number outside a single household. COVID-19 deaths in Michigan have climbed to at least 15, and the number of people infected with the coronavirus has topped 1,300.
Tune into our local and state newscasts, anytime day or night, for this story and more.