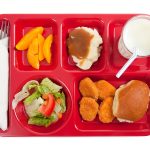 Adrian Morning Rotary is hosting an orientation and volunteer training for the Lunch Buddies program.
The Adrian Morning Rotary Club helps promote the program at Adrian Public Schools and recruit volunteers to participate. Lunch Buddy volunteers meet with a student during lunch once per week during the student's lunch and recess time and play games and talk.
The public is welcome to attend the Lunch Buddies orientation and volunteer training, which includes lunch, on Friday, January 31st at Noon at Aubree's in Adrian. There is no cost to attend, but pre-registration is required online at adrianmorningrotary.org or by calling Catrina Ossmann at (517) 442-4796.
Adrian Morning Rotary is also collecting new and used games during the month of January for the Lunch Buddies program. Donations of new or used board games, puzzles or card games can be dropped off by Friday, January 31st at the Adrian Image Center or the Lenawee District Library in Adrian.
For more information on Lunch Buddies or other Adrian Morning Rotary projects and events, visit adrianmorningrotary.org.
Tune into our local and state newscasts, anytime day or night, for this story and more.
#wlenradio #wlennews #lenaweenews