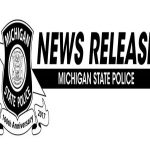 The Region of Irish Hills Narcotics Office executed a search warrant in Lenawee County… leading to three arrests.
On Wednesday, December 4th in the 9000 block of West US-223, officers seized heroin, methamphetamine and a loaded .38 pistol, suspected to be stolen. The serial numbers on the gun were obliterated.
Three individuals were arrested on outstanding warrants from Lenawee, Hillsdale and Wayne counties. A total of four warrants were satisfied.
The MSP-Monroe Post/Adrian Detachment, MSP K-9 14, the Lenawee County Sheriff's Office and the Madison Township Fire Department tactical medics assisted RHINO at the scene.
Tune into our local and state newscasts, anytime day or night, for this story and more.
#wlenradio #wlennews #lenaweenews