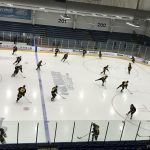 With a 4-2 win in game one on Saturday night over the Aurora University Spartans on the road, the Adrian College Men's NCAA Men's Ice Hockey finds itself back near the top of the NCHA South Division standings.
Sophomore Rex Moe sent two pucks to the back of the net last night, giving him five on the season. Also contributing to the Bulldogs offensive attack was Trevor Coykendall and Vincent Paquette … each scoring one goal.
Goalkeeper Cam Grey was solid in net for AC, stopping 26 of 28 Spartan shots. The defense in front of him made plays as well, with the Bulldogs killing 6 out of 7 penalties.
Aurora University looks to get back on track tonight after a stellar start to their season. The Spartans are 7-2-1 on the season after their regulation loss to Adrian College. Sophomore forward Conner Chilton scored a goal for AU, and senior Liam Stirtzinger found the back of the net as well. Spartan goalie Josh Boyko stopped 34 of 38 AC shots on Saturday night.
Here are the current NCHA South Divison standings:
Aurora University 4-2-1 (9 pts)
Adrian College 4-1 (8 pts)
Lake Forest 4-1 (8 pts)
Trine University 4-2 (8 pts )
Concordia Wisconsin 2-1-1 (5 pts)
Milwaukee School of Engineering 1-1-1 (3 pts)
Catch all of the action live on our website by clicking the link below:
Adrian College Men's Hockey Stream December 1st, 2019
Ian Wendt on the call! Pregame at 6:45pm eastern time, with puck-drop at 7pm.
#wlenradio #965thecave