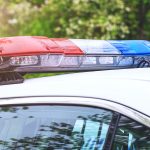 Adrian Police were dispatched to the intersection of West Maumee St and N Scott St for a motor vehicle versus a bicyclist injury crash at 5:19pm Monday.
The Adrian Police Department reports that officers arrived and located the juvenile female victim. The bicyclist was treated at the scene by Adrian Fire Department personnel and transported to an area hospital for further treatment. The driver of the vehicle who hit the bicyclist fled the scene. A witness provided a description of the vehicle, which was relayed by dispatch to other agencies.
A vehicle matching the description was stopped shortly after the description was given. The driver of the vehicle was arrested on charges related to the crash.
The Adrian Fire Department, Lenawee County Sheriff's Office, and the Raisin Township Police Department assisted the Adrian Police Department.
Further information will be released when available.
Tune into our local and state newscasts, anytime day or night, for this story and more.
#wlenradio #wlennews #lenaweenews