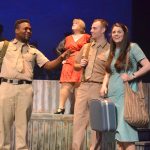 A Tony Award-nominated musical, "Violet," will open Friday, July 12th at the Croswell Opera House in downtown Adrian.
"Violet" is set in 1964 and tells the story of a young woman from North Carolina whose face bears the scar of a childhood accident. She travels across the country to seek healing from a television preacher, and the musical tells the story of her journey and the people she meets along the way.
"Violet" has opening weekend performances at 8 p.m. Friday and Saturday and a 2:30 p.m. performance on Sunday.
The second weekend are Thursday, Friday and Saturday evenings and Saturday and Sunday afternoons. The show contains some mature subject matter and is recommended for adults and teens.
Tickets range from $20 to $40 for adults, $15 for students, and may be ordered by calling 517-264-7469 or online at croswell.org.
*Media in this post courtesy of a Croswell Opera House Press Release*
Tune into our local and state newscasts, anytime day or night, for this story and more.