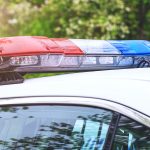 The Adrian Township Police Department has released more information on the crash that occurred on Shepherd Road at Bent Oak Highway on Tuesday.
The crash, involving two motorcycles and one car, took place at around 1:45pm. Preliminary investigation shows that all units involved were westbound on Shepherd at the time of the crash.
Both motorcycles were traveling at a high rate of speed when they crested a hill near the intersection of Shepherd Road and Bent Oak Highway. The car, driven by an 87 year old Adrian Township woman was slowing down to make a left hand turn onto southbound Bent Oak.
One of the motorcycle drivers, a 26 year old Adrian City resident, struck the rear of the car, sustaining very critical injuries and was flown to St. Vincent Hospital by Toledo Life Flight. As of Wednesday morning, the 26 year old is in the Intensive Care Unit in very critical condition.
The 87 year old driver of the vehicle was transported to Bixby Hospital, where she was treated and released.
The other motorcycle driver, a 25 year old Onsted resident, was able to avoid striking the vehicle, however, he lost control and crashed into a ditch. He was treated at the scene and released.
Alcohol and/or drugs do not appear to be involved at this time.
Several agencies assisted the Adrian Township Police Department at the scene, including the Lenawee County Sheriff's Department, Lenawee County Accident Investigation Team, Adrian Township, Madison Township, and Adrian City Fire Departments.
Anyone who has information regarding the crash should contact Chief Gary Hanselman at the Adrian Township Police Department at (517) 264-1000.
*Information in this article courtesy of an Adrian Township Police Department press release*
Tune into our local and state newscasts, anytime day or night, for this story and more.