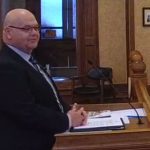 Lenawee County Sheriff Jack Welsh announced at Wednesday's County Board of Commissioners Meeting that he is retiring at the end of February.
At the meeting, Sheriff Welsh wanted everyone to know that he is not sick, and does not have any health issues.
He also recommended that his Undersheriff, Troy Bevier, be appointed to be the next Sheriff, and that Captain Ewald would then be named to the Undersheriff role. The group that appoints the next Sheriff consists of Prosecuting Attorney Burke Castleberry Jr., Probate Judge Catherine Sala, and County Clerk Roxann Holloway.
The person that is appointed will have to run for re-election at the end of the current term, which is in November of 2020.
Sheriff Jack Welsh will be at the Sheriff's Office for 43 ½ years at the time of his retirement… serving as Sheriff for 10 of them.
Tune into our local and state newscasts, anytime day or night, for this story and more.