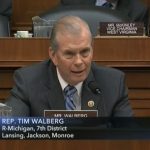 Congressman Tim Walberg (MI-07) recently voted in support of the FY2019 National Defense Authorization Act, which funds the military, supports military families, gives our troops a much deserved pay raise, and helps keep the American people safe. The bipartisan bill passed the House by a 351-66 vote.
"Rebuilding the military for the 21st century is essential in a world of complex security challenges,"said Congressman Walberg. "We need to stand with America's troops—the finest on earth—and ensure they are fully equipped to effectively respond to any threat at any time. It is also important that, under this legislation, our troops will receive their biggest pay raise in nine years. Passage of this bipartisan defense bill is another critical step towards enhancing our military readiness and keeping our commitments to the men and women who serve in harm's way."
Image courtesy of the Office of Congressman Tim Walberg. Tune into our local and state newscasts, anytime day or night, for this story and more.
#wlenradio #wlennews #lenaweenews