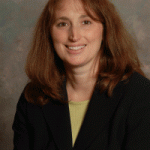 by, WLEN News Staff
Published on 1-10-18
The City of Adrian announced today that City Attorney Sarah Osburn has accepted a new position at a law firm in Lansing and will be leaving her position with Adrian. Osburn has served as the City Attorney since 2006, prior to that she served as the Assistant City Attorney from 2001-2006.
Osburn is pictured above.
City Attorney Sarah Osburn said in a release that it is very difficult to say goodbye to the people at the City and that she is looking forward to new opportunities. Osburns' last day as the City Attorney in Adrian will be February 14th.