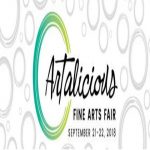 This is the last call for Artists to submit their applications for Artalicious, downtown Adrian's annual juried fine arts fair. Artalicious is seeking talented artists of all mediums. Apply through ZAPPlication.org. The deadline for submissions is Friday, June 1, 2018. Entries will be juried and announced June 6. The event takes place on Friday, Sept. 21 from 4 to 8 p.m. and Saturday, Sept. 22, from 10 a.m. to 7 p.m. Artalicious will feature a new format during this coming fair enhancing the experience of the artists. Artalicious welcomes both established  professionals and new artists. Event organizers are also happy to work with talented art students to showcase
up-and-coming talent.
"The application deadline is fast approaching", states Nancy Weatherby, a member of the planning committee. "Whether you are a long time exhibitor or new to art fairs, you don't want to miss out on Artalicious."
Tune into our local and state newscasts, anytime day or night, for this story and more.
#wlenradio #wlennews #lenaweenews