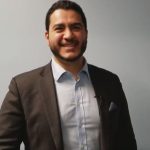 by, WLEN News Staff
Published 1/11/18
Last night 33-year-old Abdul El-Sayed visited Lenawee County's Democratic Organization in downtown Adrian. El-Sayed spoke for over an hour to a crowd of over 100. El-Sayed also visited the County Democrats in August of last year. He says his movement is about a politics of purpose. He was born and raised in Michigan and attended the University of Michigan.
El-Sayed describes himself as a doctor, an educator, and a public servant. El-Sayed described the some of the reasons he thinks people should vote for him in a brief interview:
El-Sayed told WLEN News he is running for Governor because he believes residents of the State of Michigan will come together right now because of their shared future. You can hear his opinions on firearm control and more on as part of our major newscasts throughout the day today.