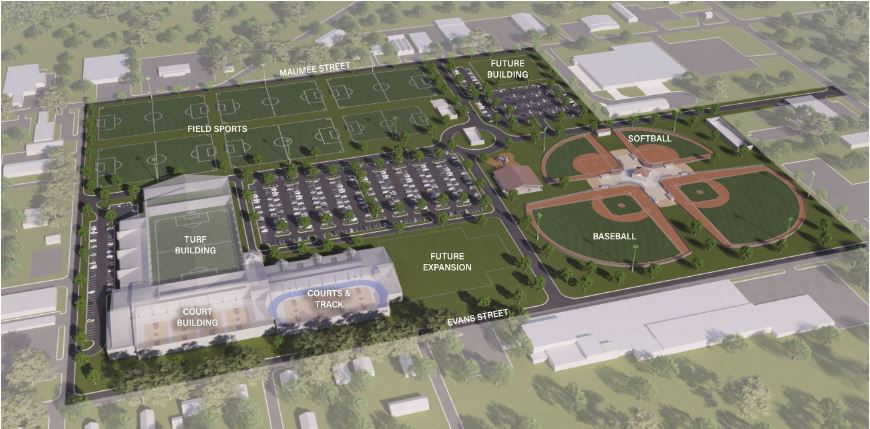 Adrian, MI – The proposed multi-use community and sports facility at the old Tecumseh Products site has been put on the shelf by Lenawee County Administrator Kim Murphy. She made the announcement at the regular meeting of the Lenawee County Board of Commissioners Wednesday afternoon.
Murphy spoke with WLEN News after the meeting about how a lack of State of Michigan funding put the County in this situation. Although nothing official was communicated by the State, she was told that there was as low as a 5% chance that they would receive funding…down from about 80% when the project was first introduced…
The Commissioners have been presented with multiple updates on the complex to this point, even hearing one this afternoon about the timeline of the project. They voted 8-1 to purchase the blighted industrial site in the Fall of 2021.
Based on numbers presented by consulting firms, 'Project Phoenix' could have ranged from $65 million to $88 million in terms of cost. The County was not absolute in where the funding would come from. A major portion of the dollars was supposed to go through State of Michigan and Federal channels, but with recent developments outlined by Murphy in the audio clip above, that part will not happen now. With lack of governmental support, private donors would be highly unlikely to foot the bill for a project of this scale.
'Project Phoenix' would have consisted of an indoor and outdoor component, in terms of athletics. It was also the county's vision to utilize the space to expand and/or improve county services.
Administrator Murphy talked to WLEN News about how she found out about the drastic decrease in likelihood for funding…
Tune into our local and state newscasts, anytime day or night, for this story and more.
#wlenradio #wlennews #lenaweenews