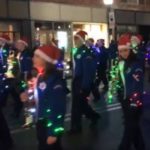 Adrian, MI – It was a busy night on Friday in downtown Adrian, with a holiday parade and a tree-lighting in Comstock Park.
Adrian Mayor Angie Heath talked to WLEN News after the parade. She said it was an exciting night…
Tune into our local and state newscasts, anytime day or night, for this story and more.
#wlenradio #wlennews #lenaweenews