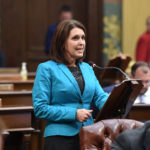 Lansing, MI – State Representative Bronna Kahle recently helped lead efforts to gain state House approval of a plan to significantly bolster support for Michigan's law enforcement and public safety personnel – giving them the resources to better protect the people they serve.
The bipartisan-approved measures include over $360 million in funding and policy reforms to help first responders with recruitment and retention efforts, community outreach and equipment upgrades.
The supplemental appropriation is funded by one-time federal COVID relief and surplus state resources.
The updated plan is an even greater investment beyond the $80 million plan the House approved in May and the $250 million plan House Republicans unveiled last month.
Tune into our local and state newscasts, anytime day or night, for this story and more.
#wlenradio #wlennews #lenaweenews