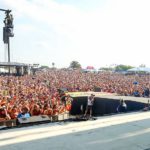 Adrian, MI – Lenawee County Sheriff's Investigators have identified the deceased victims of the carbon monoxide exposure from July 17th at Faster Horses in Woodstock Township.
They are: Dawson Brown, 20-year-old from Michigan Center, Michigan; Kole Sova, 19-year-old from Jackson, Michigan and William Mays II, 20-year-old from Jackson, Michigan.
The surviving victims who are currently in critical condition are identified as Rayfield Johnson, 20-year-old from Jackson, Michigan and Kurtis Stitt, 20-year-old male from Hesperia, Michigan.
On Saturday, July 17th at approximately 1:27 pm Lenawee County Central Dispatch received a 911 call regarding unresponsive persons at a campground in Woodstock Township, during the Faster Horses Festival. Emergency Medical Responders and Sheriff Deputies responded to the campground at the corner of US-12 and Brooklyn Highway and found five males inside the travel trailer, all unresponsive. Further medical staff arrived on the scene and began administering CPR. Three of the males were pronounced dead at the scene and two were transported by ambulance to a local hospital in critical condition and being treated for acute carbon monoxide poisoning.
According to Sheriff Investigators, the caller was a friend of the five males and became concerned when he had not heard from them. This tragic incident is being investigated as a suspected carbon monoxide exposure from a generator located very near the travel trailer.
Tune into our local and state newscasts, anytime day or night, for this story and more.
#wlenradio #wlennews #lenaweenews