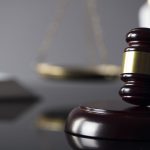 Adrian, MI – A former substitute teacher and community youth coach at Lenawee Christian Schools has entered a guilty plea on child pornography charges in Federal Court.
Matthew David Thomas entered the plea in May, and is scheduled to be sentenced in September of this year, according to court documents.
The indictment shows that there were two female victims, both under the age of 10 years old at the time of his arrest.
Thomas was arrested and charged with production, possession, and receipt of child pornography in October of 2019.
Tune into our local and state newscasts, anytime day or night, for this story and more.
#wlenradio #wlennews #lenaweenews