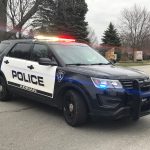 Adrian, MI – It is typical in a community to experience an increase in crime as the weather warms up… and the City of Adrian is no-different… but there have been multiple violent offenses in the last two weeks, something that has Police Chief Vince Emrick and the City Commission concerned.
Talking in the Commission pre-meeting study session Monday night, Chief Emrick outlined the crimes that have occurred over the last 10 days or so…
Chief Emrick talked about the difficulties in solving these crimes…
Chief Emrick said in the pre-meeting that they do have suspect names and vehicle descriptions on all the crimes committed.
So… what's a possible solution? Filling the two vacancies currently on the Adrian Police force, increasing community involvement, purchasing new body-worn cameras for officers, or maybe implementing police substations in communities that have high call volumes?
No concrete actions were taken by the Commission at Monday night's pre-meeting. The purpose of the gathering is to be a study session for the commission.
Tune into our local and state newscasts, anytime day or night, for this story and more.
#wlenradio #wlennews #lenaweenews