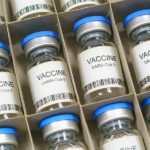 Adrian, MI – How have hospitals changed the way they treat COVID-19 patients? ProMedica Hickman Hospital President  Dr. Julie Yaroch talked about that with WLEN News Director Ian Wendt on Community Conversation Friday night.
She said that in the beginning, they were seeing patients requiring breathing assistance, needing to use machines like ventilators. As time went on, there were some treatment options added to hospital practices to battle COVID-19…
Dr. Yaroch talked about a third tactic that ProMedica Hickman Hospital uses to treat people with COVID-19…
Herd immunity from COVID-19….what does it mean and will we get there?
Does Governor Whitmer's 70% vaccination goal make sense? Can there be a combination of COVID-19 recoveries and vaccinations to achieve herd immunity from COVID-19? …
Dr. Yaroch talked about variants of COVID-19 and the worldwide effort to achieve herd immunity…
COVID-19 vaccines have been available for a number of months… and now we are starting to see the supply of them outweigh the demand…
Dr. Yaroch talked about the cultural differences during the COVID-19 pandemic and the Spanish Flu Pandemic of 1918…
Here is the full Community Conversation with Dr. Yaroch and Ian Wendt from Friday:
Tune into our local and state newscasts, anytime day or night, for this story and more.
#wlenradio #wlennews #lenaweenews