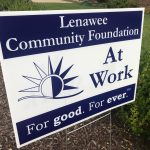 Adrian, MI – The Lenawee Community Foundation had to cancel their 2021 honors event this year due to the pandemic, but they did virtually award winners for this year.
Ben Negron was selected to receive the 2021 Lenawee Leadership Award… which honors a person or couple, who exemplify the underlying principle that the future of our county will be determined by the quality of its leadership.
A lifelong resident of Adrian, Ben was the founder, and former executive director of, Hispanics Of Lenawee Alliance. He serves on the board of directors at Siena Heights University in Adrian and is an active member of the City of Adrian Ethics Board of Commissioners.
The Lenawee County Health Department is the 2021 recipient of the Community Pillar Award, which is presented to an individual, couple, or business to recognize the outstanding impact on our community through Lenawee Cares.
Lois and Graham Fleming are the 2021 recipients of the Stubnitz Award. The Stubnitz Award is presented annually to a person or couple demonstrating exemplary commitment to Lenawee Cares, our community, and volunteerism in Lenawee. Lois was an elementary school principal in the Tecumseh Public School System and Graham was an engineer for Wacker Chemical Company both retiring over 30 years ago. They have volunteered with the Tecumseh District Library, they help Santa through the Tecumseh Service Club, the TCA, Red Cross, SCORE, and the Lenawee Community Foundation.
The 2021 Incito Award recipient is Catrina Ossmann. The Incito Award was established in 2011 to recognize a young person, age 40 or under, who has emerged as a community leader and demonstrates a commitment to volunteerism, philanthropy, and leadership with Lenawee Cares and other organizations in our community. She is currently serving as the president of Adrian Morning Rotary, and is an active member of BNI Lenawee and the Adrian Area Chamber of Commerce.
Tune into our local and state newscasts, anytime day or night, for this story and more.
#wlenradio #wlennews #lenaweenews