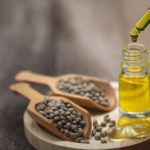 Tecumseh, MI – An ordinance amendment that would allow the Tecumseh City Council to regulate any potential future industrial hemp production passed through Council by a 7-0 vote on Monday.
Tecumseh Mayor Jack Baker talked to WLEN News about the need for such and ordinance change…
Mayor Baker said that there was nothing official on the table about an industrial hemp facility looking to locate in the City, just rumors. He addressed that with WLEN News as well…
Tune into our local and state newscasts, anytime day or night, for this story and more.
#wlenradio #wlennews #lenaweenews