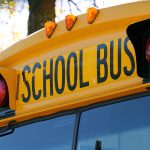 Adrian, MI – Michigan State Representative Bronna Kahle has voted in support of a plan to improve school bus safety for students in Michigan.
The bipartisan plan defines who is and isn't allowed on a school bus while strengthening penalties for those who board buses without permission.
The proposals would:
Set a penalty for boarding a school bus without permission of the driver as a civil infraction. A civil infraction penalty for impeding the progress or operation of a school bus will also be established.
Allow a sticker to be affixed to the side of a bus stating that unauthorized individuals attempting to board are subject to a civil infraction and fine.
Allow stop-arm cameras to be installed on buses. Video or photography would be allowed as evidence for law enforcement prosecuting vehicles that illegally pass a school bus.
The House Bills were approved with overwhelming support by the House Judiciary Committee and now advance to the House floor.
Tune into our local and state newscasts, anytime day or night, for this story and more.
#wlenradio #wlennews #lenaweenews