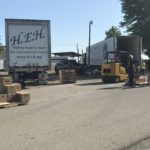 Adrian, MI – The community is gearing-up for another free food box distribution this weekend. For Lenawee is partnering with Hope and Encouragement for Humanity to host a free food distribution this Saturday, February 20th, from 10 AM until noon at Bethany Assembly, 2045 E US-223 in Adrian. There is no cost to those in need, regardless of income.
For Lenawee volunteers and Bethany Assembly staff are uniting to provide free boxes of food. These boxes will be distributed directly to drivers in a safe, contactless manner. Everyone in the community is welcome to pick up a box or two for those in need.
This year the For Lenawee community collaborative looks to expand its impact. If you or someone you know is interested in contributing toward the work of the For Lenawee Initiative, visit ForLenawee.com. For Lenawee is a community-focused collaborative in support of Lenawee County, Michigan.
Tune into our local and state newscasts, anytime day or night, for this story and more.
#wlenradio #wlennews #lenaweenews