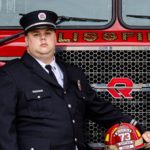 Blissfield, MI – Funeral arrangements have been made for fallen Blissfield Township Fire Department Captain Joseph Gallo.
Visitation will be on Wednesday November, 25th at the Blissfield Baptist Church from 10am to 1pm, with the service taking place at 1:15pm. 
Following the religious service, a procession will travel to the Pleasant View Cemetery in Blissfield, where interment of Captain Gallo will take place with full honors.
Gallo passed away last week in a single vehicle car crash while he was responding to a fire. He served his community as Captain of the Blissfield Township Fire Department and as an EMT and Firefighter for Madison Township Fire Department.
Tune into our local and state newscasts, anytime day or night, for this story and more.
#wlenradio #wlennews #lenaweenews