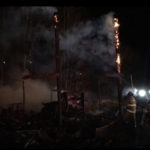 Sand Creek – As Lenawee County Firefighters were mourning the loss of one of their own, Joseph Gallo, they were called to work at a barn fire in Sand Creek Thursday night.
Multiple departments responded to the property of the Read it and Reap Library on East Street in Sand Creek at around 8:30pm. The barn that caught fire was located behind the library, and WLEN News was told that the building housed books and other highly flammable items.
In addition to the barn being a total loss, fire also damaged a house that was on the property… and there was some exterior damage to the Read it and Reap Library. Madison Township Fire Chief Ryan Rank told WLEN News that the homeowner was in the library when the fire started, and that she was able to get out in time.
The cause of the fire was not able to be determined at the scene Thursday night.
Tune into our local and state newscasts, anytime day or night, for this story and more.
#wlenradio #wlennews #lenaweenews