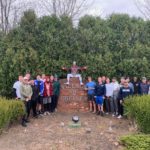 Adrian, MI – The Tau Kappa Epsilon (TKE) Fraternity at Adrian College recently ran to raise money for St. Jude Children's Research Hospital.
Over 30 chapter members participated in the 30 mile run to Chelsea. WLEN News spoke with then-philanthropy chairman at TKE, Tim Pier, about the event…
He said that it was good to do something positive for people in need…
Tune into our local and state newscasts, anytime day or night, for this story and more.
#wlenradio #wlennews #lenaweenews