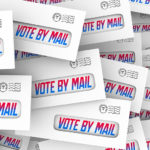 Raisin Twp., MI – Absentee ballot voters that are in the Tecumseh District Library Board precincts had an error on their ballot, and replacement ballots have been sent out according to Lenawee County Clerk Roxann Holloway.
On Thursday, Holloway spoke with WLEN News about a conversation she had with the clerk in Raisin Township…
Holloway said that when she learned of the error, she took swift action…
If you still want to vote via absentee ballot, you still have plenty of time…
If residents have questions about their absentee ballot, or voting in general, please do not hesitate to contact your local clerk.
Tune into our local and state newscasts, anytime day or night, for this story and more.
#wlenradio #wlennews #lenaweenews